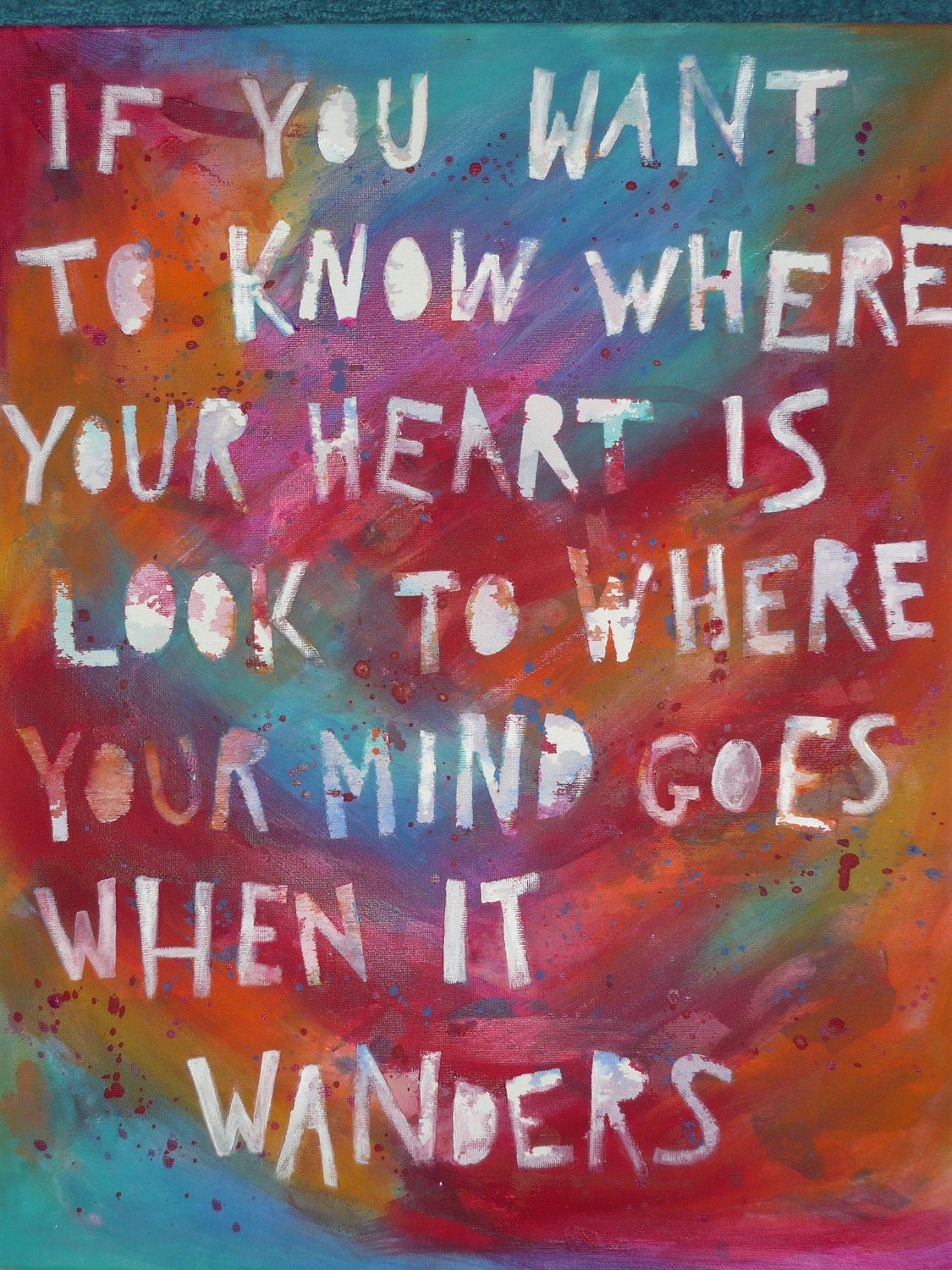 In most things you know the answers but can't see the truth. Emotions, that's what I blame. We all have that voice inside our head conflicting with reality, doubting your words, your trust, even at time your faith. In anything! It's not thinking that becomes the hard part. For we are logical beings. We search for truth.
In my experience, after fighting brain and matter. After fixes and sorry solutions I was uncomfortable with from get-go. I have learned. I have learned that in these moments of doubt one has to not think. One has to feel.
Trust that I know how heard that is to do! I mean thoughts can overrun your feelings, your gut and instincts (damn voice!). People say "trust your gut" and your brain replies "But how will I know what is my gut?" "You'll know" isn't a good enough answer because most of the time we don't know what to look for. Yet looking back now I can see what it was. What the "knowing" means.
Flashback: remember me telling you about my "writers block" (here's a refresh: Pains and pangs an overthinking writer…)
Well as I have said it was such a hard time, there were so many incidences that made me think what I was doing was a waste of time and energy. I felt so lost. I felt that I would never be able to do it the same way again, create with the same vigor. The same spirit and passion. I was so depressed at this time. I was numb. Yet every time I thought of writing, especially writing my Avengers and the comic series I have that continues in my own cannon after Avengers Disassembled I got sick. Physically ill. My stomach would drop, I couldn't eat or even move for the emotion that spilled over. It was paralyzing. Just the thought of it going away. I wasn't doing anything in it! I wasn't writing because I couldn't. The passion felt lost, yet ending it…I just couldn't stand thinking about it. I mean here was a huge part of my life's work (Seriously I have had this series going for a decade now…I started it before I even wrote up my Avengers Disassembled that was just the cut off point for my cannon to pick up their cannon.). This is what got me into the game of writing, of film and screen. It was my baby, worse still it was me. So losing it, having this negative strife and pain attached to its name, my name my very being…it was like nothing I can think of to compare it to.
This all lasted about…the worst of it, the inability to even perform a scene, all together two years. It is just now, and what has prompted me to writ this post, that I am creating without its shadow. I had always told myself that if it could survive this then it could survive anything that came its way. I see now that the paralyzing effect that its "could-be" end had upon me was the idea that losing it would be me…losing hope.
So many stories that were started and stopped, canned and forgotten never to be written up. There was even a "future universe" so that I could create without having to continue the continuity I was blocked in. That perhaps this would help break down the wall. As it turns out it was just me precursing the Civil War books (It was a year before and the "core" parallels are uncanny…only…*cough, cough* mines better.). I can remember yearning to be Captain and Brie (She's one of my characters, the one who really started the whole thing with her own book, many of my original characters steam from her. She's one of, if not the, favorite character of mine that I have written.) because I knew they could sooth me.
Thinking that any of these characters could be lost to me was a constant torture. I thought about the lose everyday. I thought about how I was failing the and in doing so failing myself. Yet I battled with the idea that life might be easier if I just cut off the limb at the infection. Nights un-slept and days undone. Yet I would not go back. Do not regret. The only thing I would change is maybe the fact that I can't go back to myself and give me a hug, a soothing touch and let me know "It will be ok."
Rounding to the point. Every time I came close to cutting off that limb my guts wrenched. Every time I thought of pursuing another career path to be more acceptable to my family and society. To be better understood and more easily shared…I would falter. Fall flat. I would hate every minute of another project. A photographer, a trainer, instructor (I ave my certificates but even those were just another painful, suffering brought on by conventional panicking and a need for acceptance) I would hate the attention (if any) they got, these sudo-"talents". This fake me. I would hate myself because the whole time I felt uncomfortable. I felt like a stranger in my own skin. I felt like a lie. They would become a path of contempt. They weren't my writing, my characters…they weren't me. How dare society, how dare the people around me pay them more mind then my true self, my true accomplishments.
They were a waste of time and energy, yet again they helped me to see myself for who I truly am. And recognize my instincts, my guts, for what they truly are. "You'll know"…yes…but will you listen?
Fear and doubt are powerful things especially when they come from within. What do you trust? It's you, you can trust you but what you? Where? Heart or head? The drop in the stomach or the steady rock in your gut?
When you know, you know.
How?
When that rock doesn't move. When the stomach trembles, the body shakes, the anxiety consumes but the stands solid. It's there you just have to feel it because it won't make a sound.